Fake Journals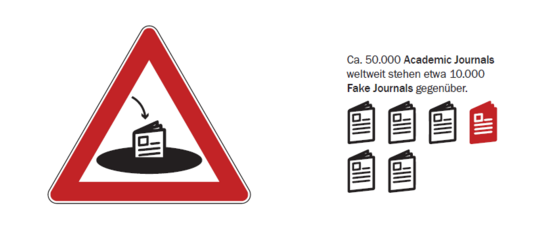 The terms "fake journals" and "predatory publishing" are used to describe dubious business models of publishers and journals that charge authors for services not (properly) provided. Quality assurance procedures such as peer review are performed inadequately, if at all. Long-term availability of the articles is not certain. Often renowned researchers are listed as editors without their consent. In addition to fake journals, there is also the issue of so-called "fake conferences".
"The University of Graz is committed to promoting the quality and visibility of research achievements as an important means of scholarly communication. In order to maintain and further improve the high standard of the publications at our university, the safeguarding of quality assurance is a top priority. In an environment in which the number of publication media, especially electronic ones, has been growing rapidly for several years, researchers are increasingly confronted with offers from dubious publishers and journals that promise attractive services such as peer review and electronic availability of articles, but do not or only inadequately provide these services. In order to ensure the quality and long-term visibility of one's own publications and to avoid supporting dubious business practices, it is becoming increasingly important to distinguish between respectable and dubious services".
(Prof. Peter Scherrer, Vice Rector for Research and the Promotion of Young Scientists)
To avoid publishing in a fake journal, a selection of tools are available for recognizing fake journals:
Databases and websites of reputable publishers of Open Access journals
Overview of different characteristics of fake journals
Fake journals can usually not be clearly identified on the basis of single characteristics. A combination of several characteristics is essential. However, this cannot replace a qualitative evaluation of the content. It is recommended that you regularly check on the internet whether you are listed as the editor of a journal without your knowledge and consent.
Please also note our further information on the risks of publishing in fake journals as well as on other practices of fake journals and fake conferences.
If you have any questions, please do not hesitate to contact the Publication Services.