Advantages and Concerns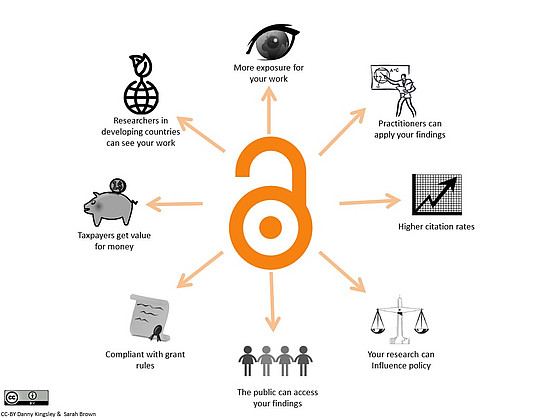 Worldwide, numerous scientists and organizations support the cause of Open Access to publications from publicly funded research activities. They are convinced that Open Access will bring enormous improvements in scholarly communication.
Nevertheless, some researchers have reservations about making their research results freely accessible online. The most important arguments for and concerns against Open Access are:
Advantages of Open Access from the researchers' perspective
Availability of own work for the entire scientific community.
Free access to the work of colleagues worldwide.
More scholarly exchange and more feedback.
Better visibility and, thus, an increase in citations.
The general public is given access to the results of scientific research.
The authors retain more exploitation rights and, thus, a greater flexibility.
Less dependence on publishers and more transparency and competition in scholarly publishing.
Lower production and distribution costs for scholarly literature.
Researchers in countries and regions where research institutions often cannot afford expensive journal subscriptions obtain access to results of current research and are able to participate in scholarly exchange.
Reservations of researchers regarding Open Access
"Forced disclosure of all results."
Only research results intended for publication should be Open Access, i.e. those that have already been produced for the (specialist) public. Of course, legal restrictions such as data protection regulations also apply to Open Access.
"Loss of control over my work"
While in conventional publishing contracts all exploitation rights are usually conferred to the publisher, in the case of Open Access publications they generally remain with the authors. Creative Commons licenses also require at least the authors to be named; further conditions (e.g. further use only for non-commercial purposes) can be specified via the various license variants. Open Access allows an easy re-use of research contributions provided that the authors are named.
"No protection against plagiarism"
Every form of publication bears a certain risk of plagiarism. The digital availability of Open Access content makes it even easier to detect plagiarism, since a plagiarism detection software may scan content available online and, thus, automatically detect plagiarism.
"Poor quality of Open Access journals"
The form of the publication has no influence on the quality of the content nor on the quality assurance such as peer review. Various quality assurance instruments and standards for Open Access journals (DOAJ, QOAM, etc.) can be used in order to identify dubious providers. We support you with comprehensive information on Predatory Publishing und Fake Journals.
"Transitoriness of digital content"
The question of long-term archiving affects all forms of electronic publications equally. Open Access does not mean that content should only be available in digital form: Parallel publications in a different form is possible. For digital publications, persistent identifiers ensure a long-term findability of online content. Strong networking of different databases ensures multiple filing of the same publication. This ensures the best possible preservation of digital content.
"Too much information"
Open Access does not mean randomly flooding the web with information. Open Access does not create new content, but makes existing content more easily available.
"Additional expenditure for secondary publication"
Secondary publication can involve additional work. However, the added value – a wider dissemination and a better visibility of publications - should not be underestimated.
We would be happy to discuss about "Pros & Cons of Open Access" with you in order to jointly develop solutions for the future.
Contact
Universitätsplatz 3a
8010 Graz
Lisa Schilhan DW 1436, Christian Kaier DW 1440